Comfort, safety, efficiency, and long service life are all qualities that today's drivers expect  in a premium passenger car radial (PCR) tyre.  The ZETA brand not only meets these high-quality levels but also implements the very latest technologically advanced patterning, design, and composition to create a range of PCR tyres for all saloon cars.

GLOBAL RECOGNITION
The ZETA brand has over 50 years of trading history in the tyre industry since originating from a famed French tyre producer and since being re-launched by leading international tyre designer and manufacturer SD-International in 2006. The brand has progressively evolved into one of the industry's most respected and popular PCR brands on a global basis and is currently sold in over 90 countries around the world.
ZETA is officially certified as an OEM brand by several vehicle manufacturers and provides quality, performance, and high-end tyre design which drivers in all countries recognise and appreciate. The brand is currently positioned as the second most influential tyre brand on digital platforms such as Instagram, Facebook, and YouTube.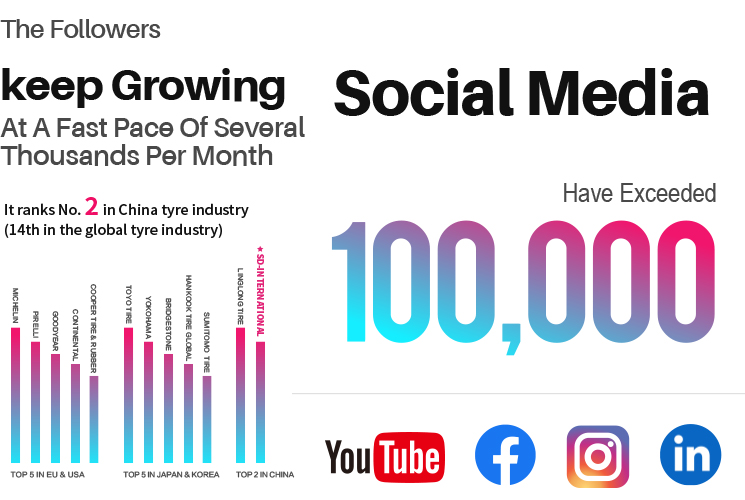 ZETA manufactures a diverse range of Passenger Car Radial (PCR) tyres all offering high performance, comfort, efficiency, safety, and durability and since the PCR range was in 2009 and it has continually developed into a world-class tyres at a competitive price.
For the manufacturing of ZETA tyres only the best production processes are used within the leading three tyre-building plants in China and Industry 4.0 factories in Thailand. These plants utilize cutting-edge tyre manufacturing machinery, technology, and testing facilities and incorporate state-of-the-art management systems to ensure the highest production quality at all phases of the process. Plus all ZETA PCR tyres meet the new EC No.1222/2009 Regulation regarding Wet Grip, Rolling Resistance, and Noise and incorporate quality patterns designed using the latest EU technology, ensuring safety, comfort, and reliability.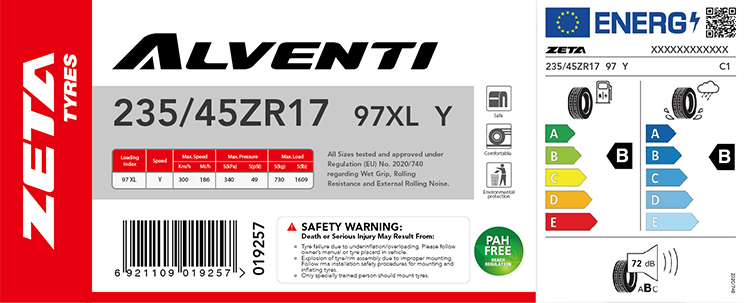 WIDE SELECTION
ZETA produces an extensive choice of PCR tyres made to fit various vehicles, including:
High-Performance Vehicles (HP) - Ultra-High Performance (UHP) - Crossover Utility Vehicles (CUVs) - Sports Utility Vehicles (SUVs) - Highway Terrain (HT) - Vans (VAN) All-Terrain Vehicles (AT) - Roll Stability Control Vehicles (RSC) - Mud Terrain vehicles (MT) - All-Season – Winter and Electric Vehicles (EV)

OUTSTANDING RANGE FEATURES AND BENEFITS
ZETA provides a selection of eight unique tyre patterns with impressive features and benefits as follows:
Impero
The ZETA Impero PCR tyre for SUV's incorporates four wide, longitudinal grooves that enhance drainage performance. Whilst anti-hydroplaning lateral grooves improve performance in wet conditions and three center blocks promote straight-driving stability. Finally optimized tyre shoulder blocks maximize grip while cornering.
Impero A/T
The ZETA Impero All-Terrain tyre includes a special wraparound tread that safeguards against cuts, impact breaks, tyre chunking, bulges, and irregular wear. Plus, this tread design affords exceptional traction, particularly in snowy or muddy conditions, and adds a rugged look to the tyre.
In addition, a reinforced wide tread gauge assists in preventing internal tyre damage during off-road travel whilst also incorporating a thick rubber sidewall gauge that minimizes external damage. Finally, a reinforced carcass and rubber gauge enhance steering stability and hill climbing on and off the road.
Impero M/T
The Impero Mud-Terrain tyre features a specially-designed tread block with a larger surface area and optimized void-to-rubber ratio to provide superior traction, grip, and control in all weather conditions and challenging terrains, and in particular sand, mud, and snow. Plus, impact damage is significantly reduced by a rugged shoulder area and uniquely designed stone ejector grooves.
Impero M/T-II
As a new generation of Mud-Terrain Radial tyre, the Impero M/T-II provides the ideal balance between on and off-road performance. Also, a deeper tread block with a large void-ratio tread design guarantees improved traction and self-cleaning performance in poor road conditions. In addition a 3-ply sidewall with high-tensile compounds give comprehensive resistance against irregular wear, cracks, and punctures.
Verdant
The superior tread design of the Verdant High-Performance tyre combined with a stylish sidewall ensures exceptional driving comfort. Whilst a silica compound provides improved dry & wet traction and lower rolling resistance to impressively increase the safety standards of the tyre. Plus the Equilibrium polyester body ply wider steel belts, and a high-density jointless nylon full cover prevent tyre deformation, enhancing durability and stability.
Meglio
Four wide straight grooves ensure effective drainage in wet conditions for improved vehicle stability and exceptional grip in wet and dry conditions. Plus, 2D kerfs and carving edges offer superior winter traction and the outside of the tyre contact patch includes a straight rib block design to increase cornering grip and driving stability.
Etalon
Expertly designed for Crossover Utility Vehicles, the Etalon provides all-weather handling whilst ensuring a quiet, comfortable driving experience. An integrated shoulder reduces uneven wear and road noise and the optimized tread profile heavily reduces rolling resistance and significantly improves fuel efficiency. In addition, the circumferential zigzag grooves divert water away from the tread grooves, minimizing the risk of hydroplaning.
Consenso H/T
This leading highway terrain tyre incorporates unique features including 3D wave-patterned kerfs, to improve grip and handling by minimizing block movement when driving leading to further improved all-season performance. Whilst a series of multi-depth lateral lugs significantly enhance overall performance in wet and snow conditions plus four straight grooved channels guarantee solid performance in wet and dry conditions.
Finally, a center block with a high stiffness rating boosts steering performance and interlocking geometry ensuring rib rigidity and optimal handling. Whilst special button elements on the tyre offer exceptional traction in snow and wet conditions.
ZETA - The Brand You Can Trust
ZETA's PCR tyres are currently available in varying sizes from 13" up to 24" ensuring all drivers can enjoy the comfort and quality offered by ZETA no matter what vehicle they drive. ZETA present an in-depth choice of high-quality tyres incorporating ground-breaking new tread patterns and compositions. To give users a safe, secure driving experience with a long service life that enhances fuel economy and is environmentally friendly.