Recently, ZETA has launched a series of truck and bus tires-ZETA TBR THAI, and together with seven new tires suitable for long-haul and medium & long-haul truck and bus driving: Z-TRAC, Z-PILOT, Z-CONTA, Z- MILES, Z-LINES, Z-TRANS, and Z-CROSS which have solved the problems of low durability, high fuel consumption, and poor comfortability of ordinary truck and bus tires. The ZETA TBR THAI series have improved the product structure of the ZETA brand and also marked ZETA's acceleration on its global strategic expansion.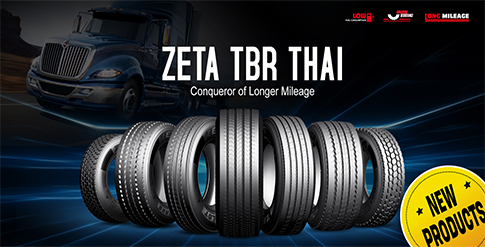 The ZETA TBR THAI medium & long-haul series tires adopt a wider tread design to ensure higher loading capacity and comfort performance. The four-layer belts structure provides tires with excellent high-speed performance, durability and comfort performance. Special tread structure design strengths the stability and improves the using mileage. 
High-performance formula application provides tires with excellent wear resistance and excellent wet skid resistance. Soft/Hard rubber combination on the bead improves the load capacity effectively. The variable pitch pattern design effectively reduces the tire noise. Self-cleaning block design can effectively decrease the damage to the bottom of grooves from the stones. All these features provide full safety assurance for the truck and bus drivers during the medium & long-haul driving.ZETA focuses on innovation and continuously improves the product matrix to meet the different needs of the market and users. The launch of the new ZETA TBR THAI truck and bus tires shows the confidence and determination of the ZETA brand in the truck and bus tire market. In the future, ZETA will continue to explore and strive to create a safer and more cost-effective high-quality travel experience for global users.